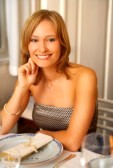 In the corporate world, you never know when you may be called on to deliver an after-dinner speech-perhaps to deliver an exciting announcement, or to be honored for something you achieved. After-dinner speaking is another form that individuals may have an opportunity to engage in. It can also be practiced under conditions resembling those of the actual occasion, that is, members of the class can be so seated that the speaking may become intimate in tone, and speeches can be selected that will serve for cultivating that distinctive, sociable quality of voice that, in itself, goes far in contributing to the comfort and delight of the occasional after-dinner audience.
Why A Unique Challenge
The real after-dinner speech deals much in pleasantry. Remember, your audience has just enjoyed a good meal-hopefully.  They are full and relaxed. They are in the mood for one thing–to be entertained! They're ready to laugh! The tone of voice is characteristically unctuous. Old Fezziwig is described by Dickens as calling out "in a comfortable, rich, fat, jovial, oily voice." Something like this is perhaps the ideal after-dinner voice, although there is a dry humor as well as an unctuous, and each speaker will, after all, have his own way of making his hearers comfortable, happy, and attentive.
How to Deliver
If you know of a good story, maybe a real-life story, the after-dinner speech would be a good time to share it-especially if it's funny! But if not, one that is inspiring or motivational will still satisfy a somewhat relaxed and comfortable crowd. The after-dinner speech is often times more sociable than other speeches because many if not all in the crowd may be personal acquaints of yours. So audience engagement should be a little easier for the speaker.
A Sociable Touch
Ease and deliberation are first requisites in delivering the after-dinner speech. Nervous intensity may not so much mar the effect of earnest debate. The social chat is spoiled by it. Humor, as a rule, requires absolute restfulness. Especially should a beginner guard himself against haste in making the point at the finish of a story. It does no harm to keep the hearer waiting a bit, in expectation. The effect may be thus enhanced, while the effect will be entirely lost if the point, and the true touch, are spoiled by uncontrolled haste. The way to gain this ease and control is not by stiffening up to master one's self, but by relaxing, letting go of one's self.
An after-dinner speech may be a fun and unique challenge in the art of public speaking.  The good thing about the after-dinner speech is that it doesn't have to be very long. The best are sometimes the ones that is "short and sweet." Practice in the speech of pleasantry may have great value in giving a man repose, in giving him that saving grace, an appreciation of the humorous, in affording him a means of relief or enlivenment to the serious speech.