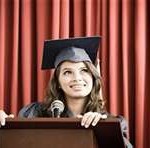 I remember the first time I had to get in front of an audience to deliver a speech. I was in the eight grade and it was a very terrifying experience for me. But I survived! (Barely) Then I learned to gain confidence in my ability to speak, so speeches I gave afterwards wasn't so bad.
Perhaps you can relate to this experience yourself. Eventually in time and with years of training and practice, I became a public speaker.
As people are thinking more of going into business for themselves, they find that being a good speaker to an audience about their business, products, or their services, can come in handy sometimes. So why not learn while still young to be confident in speaking! What will help a student to be a good speaker in school?
Your First Speech
For most of us our first experience as a public speaker was likely as a student. Do you remember having to get up in front of the class for some project or deliver a speech? Maybe it started out with Show n Tell. How did you do?
To me it seems that at every high school graduation I attend, your Valedictorian and your Salutatorian speeches all sound the same; bor—-ing! Even though what they said sounds good, it is often hurriedly read. But the recent graduation I attended, the Salutatorian must have taken a speech class because she spoke like a professional speaker and did an EXCELLENT job in her delivery-and I was impressed! So it is only fitting that we take a moment to address; rather in front of a class, or to an entire school assembly, or in college delivering a lecture, how students can also learn to be good speakers or how they can at least present themselves in front of their audiences-especially if they are to be graded, on how well they deliver.
How to Speak in Front of Your Peers
They key to students is the same with everybody else. Know your material and know it well. Research and study is important if you know ahead of time of what your topic is that you are to speak on.
One small advantage students do have is you know your audience. Because your audiences are classmates-some of them you have known for years. So you are aware of what they are interested in and what they are not. So try to use that to your advantage.
How to Cope With Stage-fright
When you get in front of your classmates to deliver your speech, how are you going to cope with standing in front of an audience? Since you know your classmates, pick out two quiet students that you know, and speak to them throughout your lecture. One to the right of you and one to your left. Try avoiding looking at your friends. Concentrate on your material since you have something important to say to them-something that they can benefit from. This will help you to take the focus away from yourself and demonstrate confidence in your delivery.
Always Stand Tall
If you are not using a podium or a speaker stand, you must stand up straight-starting off with both hands together about chest high in front of you and gesture slowly from one side to another. Then you can relax one hand to your side and continue to motion with the other hand. Guys try not to put your hands in your pocket! More on gestures will be discussed later.
If you are using a podium, don't lean on it, or grab both sides with your hands as if you're riding a roller-coaster. Stand tall and relax your arms and hands for effective gesturing.
Join Speech Classes
While still in high school or college, a student can be encourage to not only enroll in speech classes, but also participate in any speech competition programs that may be available. You'll be surprised on how valuable that training can be later in life!
Keep in mind too, that posting their progress as a public speaker while in school, will no doubt be some of the best status report young people can share to their social media friends.
So if you are a student, why not learn while still young, on how to successfully present yourself in public.
By Reginald Jackson
The above article is a chapter from my eBook entitled "Public Speaking and Public Presentation." What else is discussed in this unique publication? Click here and see now!