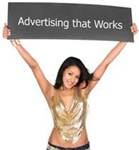 In this modern competitive world of marketing, there are many ways to reach and engage customers. The "organic" way businesses advertise their products or services is the traditional methods that's been used for centuries. Then there's the method of targeting potential customers online with the help of social media and social networking tools. There are several reasons why to use social media to increase your business and improve your client base. Here are 5 ways in which your business can join the modern world of social media advertising.
Method Of Advertising has Changed
Businesses who use to depend much on the Yellow Page and newspaper classified ads are now finding that it doesn't seem to be as effective as it did once before. The reason for this is because people read much of the news online and if they are in need for anything to purchase, they'll just "google" it. Now even large industries are focusing on budgeting a large amount of their marketing expense to make their presence on social media.
Using Social Media to Find Potential Customers
A good fisherman knows where to look in order find the fish, as well as what bait to use. He goes where the fish is! Your business needs to know where to find their potential customers or client. Since millions of people now spends a lot of time on the net-on social media, you need to be where the people are- and that's online. For example, 1.4 billion people are on Facebook and that's just one social media channel. So learning how to leverage social media to reach potential customers is like finding that spot where all the fish are. It can certainly prove to be advertising that works.
Being More Sociable
Businesses, corporations, and industries are now learning that just throwing a good sales pitch in front of people may not be enough. The rules are different now on the net. With social media is all about engagement and mastering the art of interaction. Companies are even hiring or outsourcing social media managers to do just that-engage with potential clients. So because of social media, businesses are learning how to be more sociable, more conversational, in retrospect to "cold advertising," and to many that's a good thing.
Keep Up With the Competition
There's no doubt that your competitors have already leverage the use of social media for their own advertising campaign. So to keep one step ahead of the competition is a good reason why a business would want to seriously consider using social media to promote their goods or services. There are so many tools, free and paid, that helps any business keep tabs on what the other guy is doing and how to adjust their advertising campaign accordingly.
Having a Social Networking Presence 
With millions of people searching online everyday using search engines-Google, Yahoo, Bing, and others, it's not only a matter of how to find people online, but how they can find you. A strong social networking presence can include the following tools:
• A website (Learn how to optimize to drive traffic to your site)
• A blog (A good blog shares content that can draw traffic)
• Social Media (Twitter, Facebook, Google+,Youtube, Linkedin, Foursquare, etc)
• Google Maps (Put your business on the map)
Advertising That Works!
Getting your small business one stage further, demands a new influx of promoting attempts you may not previously experimented with before. Social media marketing could very easily be this new wave that you are looking for. Whether you learn for yourself or hire a Social Media Manager-either way you will find accomplishment within your new advertising and marketing endeavors. You will  discover that it truly is advertising that works!