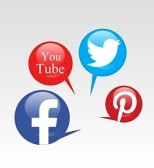 Congratulations! You have successfully started your business or at least launched your business website online! How will you market? Paid advertisement is essential but expensive! Using social media is what many businesses are using these days because of its reach online, and because that's where the people are!
So the question is: What's the most effective social media platform out there for my business? Now that is THE million dollar question. Nowadays, there are tons of social media platforms at your disposal. These are all effective social media platforms where you can create an amazing following. However, you don't have to sign up to all new and popular social media sites on the planet. Trust us when we say you would rather be excellent with one or two platforms rather than be a mediocre with four five or six!
Number of accounts in different social media sites don't matter. Instead, pick one or two channels and focus your target marketing there. Now, if you need some guidance with what is the best social media site/s for you then read below all the details of the most effective social media channels out there. Here are a few of the most effective social media platforms to use for your business!
1. Facebook
What can we say? Over 1.11 billion people are into this famous social media site. Besides catching up with loved ones from overseas, Facebook did a wonderful job for many aspiring entrepreneurs out there. If you're a start-up entrepreneur, we suggest you try the waters of Facebook first before jumping on any other platforms.
Facebook has established itself quite well and you can use that to your advantage. You will be easier seen on this social media site with an option to send you a private message, browse your products and even share your goods to a wider network. We firmly believe your target marketing strategies will not be wasted with this site.
2. Twitter
Twitter is an astonishing social media platform that can promote your business in 140 characters or fewer. This is a site that garners over 215 million active users or potential customers. This great site is generally made for communication so you know that customers can reach you 24/7. What's more special about Twitter is that you can incorporate your own hashtag brand so you'll be easier searched or be in the most popular page.
Word of the wise, this effective social media platform can get you viral in no time! Proven and effective way to increase your business' popularity.
3. Google +
Far from the ghost town it is perceived to be, Google + is actually one of the most effective platforms for business. With over 359 million active users, this social media site is a combination of Facebook and Twitter with hashtags and interactive program for your business.
If used properly, your followers may skyrocket more than what you're expecting. Plus, have you forgotten? Google + is owned by Google which means better search engine result and exposure for your business!
4. LinkedIn
This effective social media platform is made for business people to interact with others. Sometimes it is used by job seekers to find potential employers but most of the time it is used to increase your audience. Business owners realized the value of this site and the opportunities to build relationships and sales leads. An estimated 2.7 million business pages is on LinkedIn, each interacting with each other for partnership, proposal, quotations etc.
Just a quick heads up: LinkedIn has a humongous number of professionals so expect important business dealing. It is not similar to Facebook or Twitter where any start-ups can be casual. On LinkedIn, you need to look professional so people can take your business seriously. Nevertheless, don't be intimidated though as the users on this social media channel are really friendly. You'll never be out of place here.
5. YouTube
1 billion unique visitors every month – that's how huge this video-oriented site is. Not to mention that it's the second largest search engine after Google! How's that for target marketing and popularity boost? YouTube can literally take you to places with increasing your customers every second someone clicks on your video.
You can even sponsor a commercial where they can stream over millions of videos. Oh, did we also mention that YouTube is owned by Google? You don't have to worry about search engine rankings at all with this platform.
6. Pinterest
Pinterest is another effective social media platform made for business-especially if your business involves products to promote. All you need are good photos of your products and post or "PIN" them on a board representing a certain category and then build your following to interact. The people on Pinterest are friendly and sometimes helpful to promote even your own products. Its worth signing up just to get a little familiar and start getting your business or brand out there to be seen on the internet!
Social media is really simple to use and inexpensive! It's all about one thing-engagement! Once you get a good feel at using social media-the more you will be effective in promoting your brand and they can become a powerful tools for your business. So whatever you choose from these effective social media channels, always keep in mind to focus first on one or two so your marketing will be successful to a large degree.