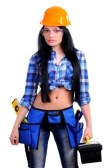 How to simplify your social media marketing
6 Social Media Tools
We all know that having the right tools is essential to simplify or make any job easier-whether large, small, or just time consuming-would you not agree? The same is true with social media marketing! Are you using the right social media tools to simplify your marketing campaign?
It's a demanding routine for a marketer or a business owner-not only that there is a lot of concerns to address such as the quality content to share with the prospect audience and right tool to use in sharing the content, but there is also the struggle against time. Nonetheless, the social media tools come into existence to shoulder the burden of these marketer just like you.
Presently, social media plays an important role for the effective online presence of businesses or websites. However, it cannot be denied that these social platforms are broad and powerful. On top of this, these networks are constantly expanding and becoming more complicated than usual. Thus, it consumes much time for a marketer or social media admin to manage the tasks on hand.
Although the social networks are upgrading with complexity, marketers can still get a hold of the advancement. In fact, there have been a number of social media tools that are created to cut down the time allotment and ease in the management of social activities. Here are just six!
1. Like Alyzer. Make sure you include in your marketing strategy a Facebook Fan page, then use Like Alyzer as a tool to provide assessment to your Facebook page. This tool will rate your page out of 100 for a free cost. Afterwards, recommendations are given for the improvement of your page.
2. Scoop.it. One of the popularly used social media tools to boost social media marketing is the Scoop it. When your social networks are connected with this app, you can publish wherever you are as you "scoop." This only means that you are also posting on Facebook, Tumblr, LinkedIn, and tweeting on Twitter. On top of this, you can keep your audience inspired with a random of fresh interesting articles to use and post on your website, Facebook Fan page or both.
3. Post Planner. The Post Planner is one social media tool that you can install within your Facebook. It comes with a pack of features including automatic publishing of content per schedule, database of thousands update ideas, simple analytic s of people who have liked your post, add posts to your queue, and many more. With these features, Post Planner comes with a premium. However, there is a trial version available for you to determine its efficiency and usability.
4. Razor Social.  Get free juices on the social media innovations from Razor Social. It will provide you information relevant to social media tools available online to boost up your presence and reputation. Hence, cutting down the burden of managing social activity through knowledge application. Moreover, Razor Social is a community that continuously motivates its people to share significant and quality content.
5. Mention me. This is one excellent and efficient monitoring tool. The key to this application is the keyword at which will merit you to connect with other people or find potential businesses. Hence, the tool will alert you through your email or any other social media as it encounters particular keywords from various sites around the web. Nevertheless, Mention me comes in a free trial and paid versions.
6. Feedly. If you want to be updated on the news, Feedly serves the purpose. It will simply provide you with a myriad of posts at which you can subscribe to. Furthermore, Feedly can be integrated with Buffer that will allow you to share content with ease. This is because Buffer will be responsible for disseminating the posts. Furthermore, the articles that are featured in Feedly can be viewed with convenience using your very own computer or smart phone.
With the available social media tools online, workload is relatively lessened. Thus, it allows you and your website maintain credibility online. Furthermore, it maximizes your time for far more important tasks and duties.
I hope you can make use of these 6 social media tools to boost your social media marketing! Please leave a comment below.