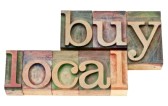 How would you like to target potential customers for your small business-but only in your local area? Targeting local traffic is an important website marketing strategy for small businesses. According to a variety of studies that have been done regarding website traffic, approximately 80% of people doing an online business search are searching for local businesses. But what if you want prospective customers to know that you are here locally? Here is where Social Media can help!
Promoting through social media sites is a new way that offers a lot to your business, mostly for free. Utilizing social networking sites is an effective way to draw local customers to your website. Here are a few social media tools to use:
FREE TOOLS
Twitter
In Twitter you can literally find tweets that mention your topic of expertise, from people who are geographically close to you. The way to do this is by using Twitter search. But instead of using the basic Twitter search box, you would want to use the Twitter Advanced Search page, which will allow you search locally.
To access the Twitter Advanced Search page type the keywords you want to search for in the usual Twitter search box and press Enter. You'll see a results page that gives you a list of tweets that include those keywords. Click the down arrow next to the 'cog' in the corner of the page, then click Advanced Search. This reveals the Twitter Advanced Search page where you can really narrow your search. Type in your keywords then go to the Places box. Enter the geographical area you work in and then click Search. You'll get a list of tweets that include your keywords, from people who are in the location you searched on. To save this search for future use click the drop down arrow on the search results page next to the 'cog' and click Save Search. The next time you want to look at this search click in the basic search box and a list of your saved searches will appear.
Using Twitter search in this way helps you find opportunities and people to add to your network.
Twellow
Twellow is a Twitter related tools that permit you to specifically target users who are among a certain area of interest and those who yield the most influence on the site. Once you've identified these people, you should follow them and hope that they return the favor.
You simply open up a Twellow account. At the top of the page you will see "Find Twellow users anywhere." Just enter your city or location and start clicking on users you would like to target. Once they follow you back then start engaging with them.
Facebook
If you want to build brand awareness and connect with your customers, there is no beating Facebook. To claim and set up the Facebook Places page for your business. The first step is to create your Facebook Page by going to https://www.facebook.com/pages/create.php. When you click on Local Business or Place, you will be taken to a page that will require you to fill in the required details of your business. After this you can use your admin panel to edit your page, build your audience, and fill your page with the requisite content. Once you have created your official local business page on Facebook, it's time to claim your Facebook Places page.
Go to your Facebook Business Page and click on the arrow on the box next to "edit" and select 'Is this your Business?' When you click on it you will be taken through a series of steps that will ask for information about your business. You will now need to verify your connection to the business by either choosing an email verification process or by uploading the necessary documentation. Choose the email option only if you have an email address linked to your Facebook account and which also serves as your business email address. In terms of documentation, you will need to scan or click a picture of an official business document, like business license, tax file, phone bill, etc., and upload it.
Now you are done claiming and setting up a Facebook profile for your local business. All you need to do now is start managing it.
Foursquare
Foursquare is a location-based social networking site for mobile devices that gives your business a mobile footprint. With more people using mobile devices to search for businesses, a presence on Foursquare is one of the most popular social media tool for local businesses. Create a Foursquare Page and connect it with your Twitter account. When you create your page make sure you complete your Page Profile. Now you want to add your listing to Foursquare's searchable database. If you don't have a business listing, you can create it on https://foursquare.com/login?continue=%2Fadd_venue. The business listing will ask for your phone number, your website's URL, links to your Twitter and Facebook profiles, hours of operation, and description of your business. Make sure you leave no information out.
Once your business listing has been added to Foursquare, claim it. When you claim your location, you are telling Foursquare you are the manager of that venue. You can claim multiple locations of Foursquare; all you need to do is to provide verifiable contact information. Once you are done listing and claiming your location on Foursquare, you can begin adding specials, checking your analytics, and a whole lot more. But the most important way to use Foursquare is to take the time to build up a network of just local followers and interact with them.
Google + Local
The local pages on Google+ Local closely resemble company Facebook Pages —they interact with Google Maps, Zagat reviews, and Google+. But the big thing is that your local pages will be indexed by search engines. Just click here to read my article on how to put your small business on the map!
PAID TOOLS
Yelp
This is another directory that is scaling the popularity charts, though for a small monthly fee. The 3-step process to be followed for claiming a Yelp listing for your business is similar to the processes on other sites. First go to https://biz.yelp.com/claiming. Type in the name of your business. If it shows up and is unlocked, somebody has already claimed it. If it turns up locked, click on the 'Unlock' button.
Another scenario is that your business listing doesn't turn up in search. Don't worry, just click on the 'Add your business to Yelp' link, which will take you to a page that will allow you to do just that. Once you click on 'Add', you are done. Now wait for the confirmation email from Yelp. You are done claiming your listing. Now you need to optimize the page by adding as much business information as you can. This could mean including more business information, photos, responding to reviews, and a whole lot more.
"The Bottom Line"
In using these social media tools, it's very important that all your profiles contain complete and up to date information. Also, your contact addresses and phone numbers must be the same across all your profiles. Maintaining profile consistency across different online directories will boost your local SEO efforts and allow you to target market local customers for your business.