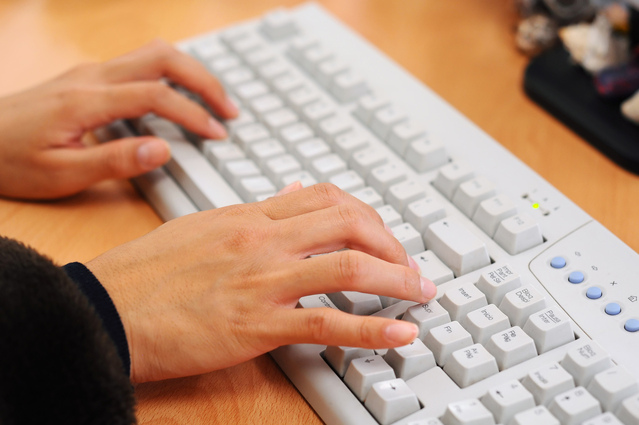 Finding a work from home isn't easy. It's going to take some work and research to find a legitimate job. First, review the types of work at home jobs that are available, along with job listings. Then, check out the lists of companies that are known to be "telecommuting friendly" and hire employees or freelancers to work from home. Most of these employers list work from home jobs online.
Work From Home Jobs
Here are the types of work from home jobs that companies typically hire for.
•Call Center Jobs
•Home Agent Jobs
•Mystery Shopping Jobs
•Online Tutor Jobs
•Transcription Jobs
•Virtual Assistant Jobs
•Work From Home Job Listings
•Work at Home Company Directory
•Work at Home Career Information
Work at Home Job Listings
In addition to companies that typically hire employees that work from home, there are sites where you can find work at home job listings. Carefully review the listings you find, because you will find scams can slip through the cracks and get posted on even the best sites.
LinkUp
Job search engine LinkUp.com searches only for jobs on company web sites, so it's a good way to avoid scams. Search using "telecommute" or "telecommuting" as a keyword to find legitimate work at home job listings.
SimplyHired.com Work at Home Jobs
Use Simply Hired's "telecommute" search options for find work at home job listings from job boards, company web sites, and other sources.
Work at Home Listings From Job Search Engines
Job search engine sites allow users to search by keyword and location. If you have specific skills (i.e. insurance claims, customer service, web design) such by those skills and terms like work at home, freelance, telecommute, etc.
Craigslist
Search for work at home freelance positions by entering "freelance" or "work at home" as a keyword in the search box on the front page of the site. Otherwise, click on the city that interests you and review the list of job openings.
Job Boards
Monster, CareerBuilder, Yahoo! Hot Jobs and the other top job boards all contain work at home job listings. It takes some work just to weed through the postings, but, they are there. Search using keywords like "freelance" "telecommute" "work from home" and "work at home" as well as by the type of work you are interested in. Again, be specific.
Trusted Resources
There are hundreds of legitimate companies that use home-based workers, either as employees or as independent contractors (freelancers).
The people they hire work from their own home using computers they already have and high-speed internet access. They perform certain tasks and are paid on a weekly or per task basis. You can get a list of these companies from a trusted guide like work-at-home guide.info.
Social Media Management
Another legitimate work at home opportunity of a somewhat a different nature, is to set-up your own business as a Social Media Manager or a Social Media Virtual Assistant. Helping individuals or businesses to set themselves up on Facebook, Twitter, Linkedin, or Youtube, and then to assist them in managing these social media tools and others, is in high demand. There are training programs for this type of work that you can simply search on the web.
A Word of Work From Home Warning
Jobs that promise you oodles of money with little investment of time and no experience aren't legitimate. Legitimate work at home jobs are going to require that you have skills relevant to the position. Many jobs require skills like writing, graphic design, programming or web design, for example. If you don't have any experience in the field(s) you are interested in, it's going to be difficult to find an employer willing to hire you. Most employers who are willing to hire someone to work from home and want workers who can work independently and get the job done with little guidance.
Finally, please take the time to research every job lead you find and every site you visit carefully. Even sites that purport to be impartial sometimes aren't. I just visited a site that supposedly had general information on telecommuting. They recommended their top sites, all of which happened to be affiliated indirectly with the first site and all of which charged a fee.
However being asked to pay a fee is not the same as purchasing a guide that includes a list of legitimate companies that will hire you to work from home.
So I hope this bit of information will be of help to you on how to find a legitimate work from home Job that fits you! Happy surfing!
By Alison Doyle, About.com/Reginald Jackson